Ultima is the biggest contemporary music festival in the Nordic region. Every year in September we present the latest developments in modern music in more than 60 events spread over ten days. The festival programme features new music and other creative forms in the shape of concerts, performance works and art installations at venues across the whole of Oslo (from the Opera house, Rockefeller and Kulturkirken Jakob to small club spaces, museums and even the open air). Ultima Festival has been hailed as one of the country's top 12 music festivals in Aftenposten newspaper.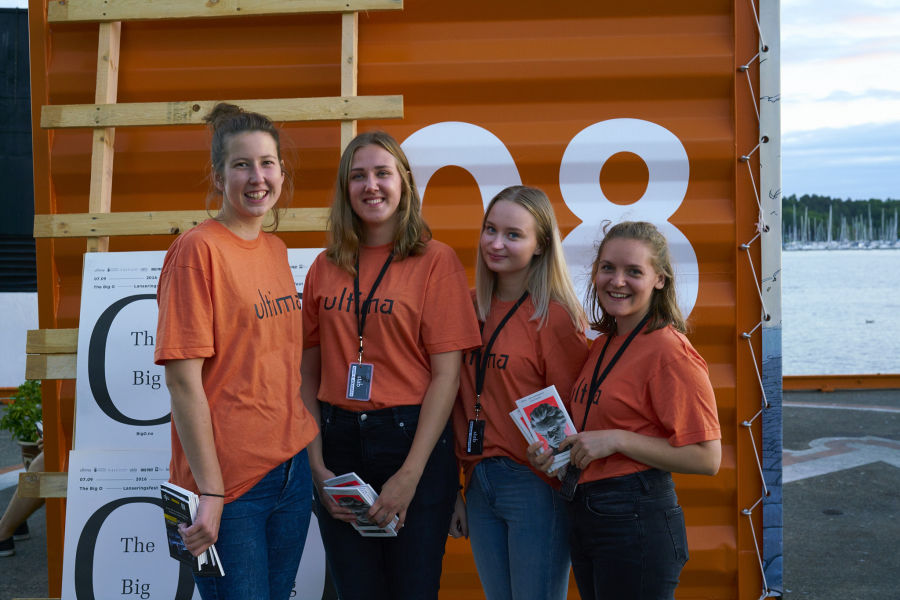 As an Ultima volunteer you'll gain a thorough experience of the whole workings of the festival, including everything from production, technical and logistics to communications and audience development. You'll also get to know lots of lovely people and get to participate in some exciting artistic and musical experiences the likes of which you have never seen or heard before.
If all of that sounds interesting, why not register here.
Questions? Drop us an email at: frivillig@ultima.no
As a volunteer, you'll get the following:
Access to artist talks and workshops (space permitting)
The chance to bring a friend to selected concerts
Ultima festival merchandise (t-shirt, tote bag, etc.)
Food and drink
Invites to the kick-off and closing parties
What we expect from you:
Work a minimum of two shifts lasting c. 7 hours each (or four 3½ hour shifts)
Turn up to your agreed shifts punctually, bringing positivity and enthusiasm
Give plenty of notice if you are ill or can't work for another reason
Minimum age 16
As an Ultima volunteer you can work in any of the following:
PRODUCTION
Production Assistant
Assistant to the venue producer at festival concerts and performances, Ultima Context events and functions for the festival's international guests and delegates. You'll help to make the venue ready for the public, answer questions from composers, musicians and technicians, and help ensure that rehearsals and take-downs run smoothly according to the production schedule. No job is too big or small for you, (whether it's making a coffee or stage rigging). This job is perfect if you want to see how an artistic event is carried out in practice, and if you thrive in a varied and slightly unpredictable working environment.
Rigging
You'll help with rigging and dismantling stage set-ups, seating areas and technical equipment. You have a positive attitude and enjoy physical work.
Transport
For people with a driving licence who are comfortable driving large vans around Oslo. You'll be driving everything from equipment to people, to and from the festival's venues.
COMMUNICATION
Promo and distribution
Are you familiar with Oslo and enjoy being outdoors? You can help us by distributing the festival's printed programmes and posters to cafes, arts institutions, places of study and festival venues. This work usually happens during the weeks leading up to the festival.
Social media/photography
Do you take great pictures and love using social media? You can help in our Social Media department and go round our festival venues documenting what's happening, both on- and backstage. You're a self-starter with bags of initiative. Relevant experience is necessary here.
HOSPITALITY
Concert usher
Do you enjoy working with people? Our ushers work in teams at various festival spaces around the city. You are the public face of Ultima, helping to give our audiences the best possible experience. Along with the other team members, you'll prepare the venues, sell and scan tickets, hand out programmes and answer questions from the public. It's vital that you are positive, get familiar with the concert programme and the practical details in each building (such as where to find the toilet and the bar).
Artist assistant
You'll take care of the festival's international performers, guests and artists. This might involve guiding them from hotel to venue, helping with luggage, liaising with drivers, answering questions and passing on important information. A good knowledge of the city of Oslo would be an advantage, as well as an outgoing and self-confident personality. Even better if you speak other languages besides Norwegian and English…
Security
At certain venues and larger productions, we sometimes need various types of security such as fire officers, security guards and stage bouncers. This is a good job if you're patient, clear and conscientious.
Greeter
Are you service-minded and outgoing? As a receptionist you'll welcome and communicate important information to our international delegates, press, performers and members of the public in the festival reception at Vinterhagen in Sentralen.
FESTIVAL TEAM SERVICE
Are you sociable and a people person? As a volunteer looking after the festival team's needs, you'll welcome and register volunteers arriving to work. Your main task is to look after the volunteers, interns and venue producers, and make sure they are supplied with all the food, drink and festival merchandise they need. You'll help out in the festival kitchen in the volunteer hub on the 2nd floor of Sentralen, and help in bringing equipment and food to the venues.