Celebrate a quarter century of challenging music with Norway's premier female improvising quartet
SPUNK
Deichman Bjørvika
12/9, from 19.00 (programme below)
150/250 NOK
SPUNK
Oslo Domkor & Christiania Blåseensemble
MoE (Guro Skumsnes Moe, Håvard Skaset)
Jöelle Léandre – double bass
Lasse Marhaug – film
Hild Borcgrevink – conversation
Vivianne Sydnes – conductor
SPUNK have been practising their multidisciplinary, open, energetic, playful and socially critical music making for 25 years – now you can celebrate this fantastic achievement with Ultima! The fearsome foursome of Kristin Andersen Høvin, Lene Grenager, Maja Solveig Kjelstrup Ratkje and Hild Sofie Tafjord first made their mark in 1995 and have continued with nine albums, a DVD and the massive box set recorded over 12 years, Das Wohltemperierte SPUNK.
SPUNK and friends will take over the new Deichman Bjørvika library for a full evening of parallel concerts, screenings, talks and happenings.
Bookended by two SPUNK live sets with live video by Tord Knudsen, the night includes the Oslo Domkor and Christiania Blåseensemble perform a special tribute to SPUNK by composer Jon Øivind Ness. He has made an arrangement of the band's 'Nymphea Alba' that adds extra 'orchestral bling' to the original.
Furthermore: a new film montage edited by Lasse Marhaug using footage from the 8750 days of the band's life; concerts from Guro Moe's MoE; influential French free jazz bassist Jöelle Léandre in a brand new video concert production at a distance from France; SPUNK group members in conversation with Hild Borchgrevink; and a listening station where you can dive into the rich musical archive of SPUNK.
SPUNK has kept the same line-up since 1995 and represents a unique continuity in Norway's free improvised music scene. All musical experiences weigh equally, and all decisions are made together. They have been involved with spatial installations, the performing arts and visual art fields.
SPUNK perform their shows with no advance preparation or discussion. Be prepared – anything can happen, and probably will!
Ultima is pleased to be working with our latest partner, MUNCH, on this spectacular celebration of SPUNK. By joining the Ultima Festival community, MUNCH once again demonstrates its strong support for contemporary music, and we look forward to close collaboration on concerts and other events in the years to come.
Programme:
The audience will be separated into two groups at the entrance and will be assigned either a white or black wristband.
White wristband: SPUNK concert at 19.45 / MoE concert at 22.00
Black wristband: MoE concert at 19.45 / SPUNK concert at 22.00
For the rest of the time, the audience may choose which events to attend at which times (on a first-come first-served basis). Due to limited capacity /corona restrictions several of the shows will take place more than once during the night.
19.00 Foajeen Jon Øivind Ness: Nymphaea Alba (arr., 2020, WP)
Oslo Domkor
Christiania Blåseensemble
Dirigent: Vivianne Sydnes
Parallelle arrangementer :

19.45 Deichmansalen SPUNK concert & live video (2020, WP)
19.45 Musikkavdelingen MoE konsert (2020, WP)
20.45 Deichmansalen Joëlle Léandre: SPUNK 25th Tribute Improvisation (film, 2020, WP)
20.45 Kinoen Lasse Marhaug: 8750 Days (film, 2020, WP)
20.45 Skogen Lasse Marhaug: 8750 Days (film, 2020, WP)

21.15 Deichmansalen Joëlle Léandre: SPUNK 25th Tribute Improvisation (film)
21.15 Kinoen Lasse Marhaug: 8750 Days (film)
21.15 Skogen Lasse Marhaug: 8750 Days (film)
21.15 Musikkavdelingen Talk SPUNK w Hild Borchgrevink
22.00 Deichmansalen SPUNK concert & live video
22.00 Musikkavdelingen MoE concert
SPUNK & live video
Maja Solveig Kjelstrup Ratkje – vocal, electronics
Hild Sofie Tafjord – horn, electronics
Lene Grenager – cello
Kristin Andersen – trumpet, recorder
Tord Knudsen – live video

MoE
Guro Skumsnes Moe – vocal, bass
Håvard Skarset – guitar
In collaboration with MUNCH.
Joëlle Léandre's SPUNK 25th Tribute Improvisation is supported by Institut français de Norvège.



(Photo: Kim Hiorthøy)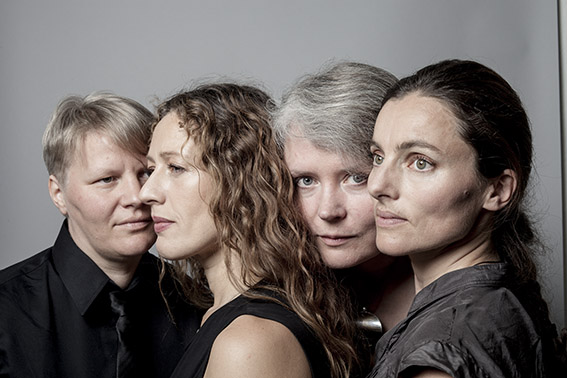 Deichman Bjørvika
7:00 PM